Readers Choice Winners 2013
The People have spoken! Whitestone was recently selected by the readers of the Star~Telegram as the "Best Public Golf Course". Come and experience the fun!
Welcome to Whitestone Golf Club
Whitestone was created with one thought in mind… offer Texans and visitors the best possible golf experience at an unbelievably affordable price. We are proud to say that we have done exactly what we set out to do!
Our Fort Worth golf club first opened in May 2000 and we immediately knew we had something really special! Whitestone was soon selected as one of Texas' Top 10 New Public Courses. Whitestone Golf Club is located on 150 acres of beautiful rolling land, which has enabled us to build a course that is really unique for the Northern Texas area.
For our Fort Worth golf club, we selected the newest and best type of grass for our greens, tees, and fairways. TifEagle is considered to be the finest grass for putting surfaces that you can get for a climate like ours here in the Fort Worth area.
Our Bermuda 419 tees and wide, accommodating fairways give our golfers great lies to hit those important approach shots to our large, receptive greens.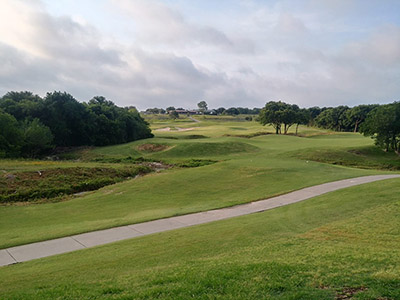 Our 18-hole championship Fort Worth golf course was co-designed by nationally known golf architects Jeff Brauer and Jay Morrish. Brauer has designed such well-known Texas courses as the Cowboys Golf Club and Tangleridge Golf Club.
Morrish designed Los Colinas Sports Club in Irving and La Cantera Golf Club in San Antonio. He previously teamed with PGA Tour great Tom Weiskoph to create some of the world's most beautiful courses, such as Troon North Golf Club in Scottsdale, Arizona.